A special thanks to our Corporate Matching Donors:

Ameritas, Don & Nancy Endicott Family, Elkhorn Valley Bank & Trust and Quality Foods

for helping to fund The IDEA Project.
2023-2024 IDEA Grant Award Recipients
Molly D'Agosta – Portable Real Time Translator.
(remove after adding pictures)
Staci Foote, Emily Sims & Carrie Wendt (3rd Grade) – Headphones, Privacy and Storage.
(remove after adding pictures)
Kristine Muir – Focused Seating.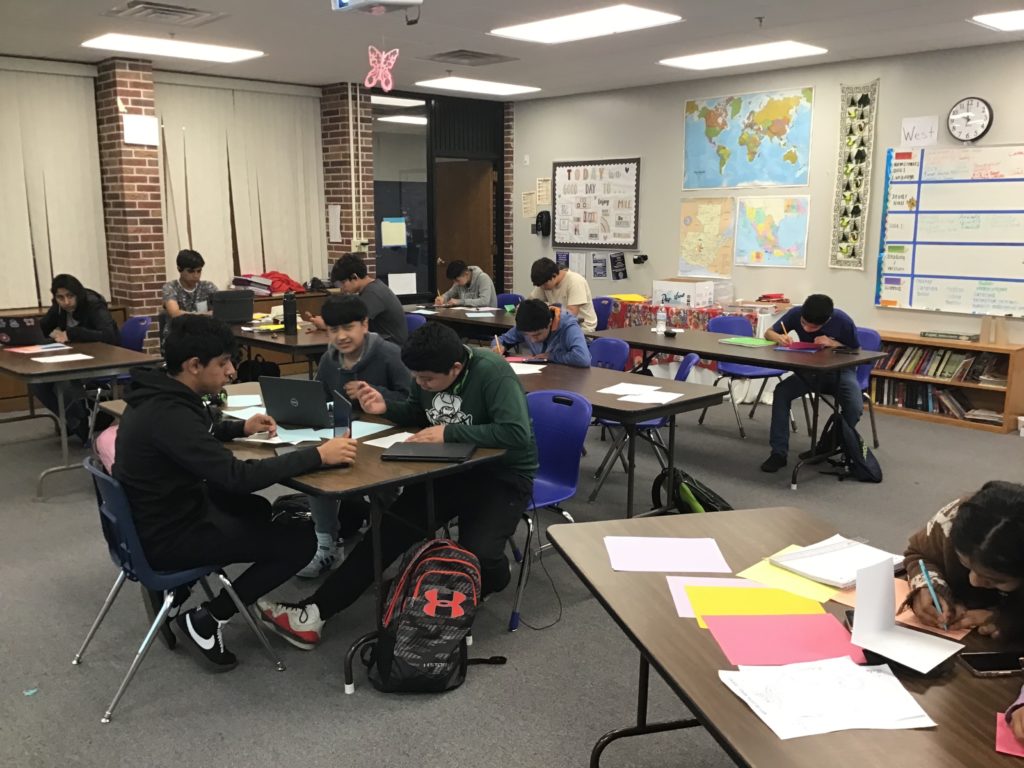 2022-2023 IDEA Grant Award Recipients
Kim Lubberstedt – K-6 Counseling Department
Tony Cantrell, Kiley Koch, and Alina Surber – A Cut Above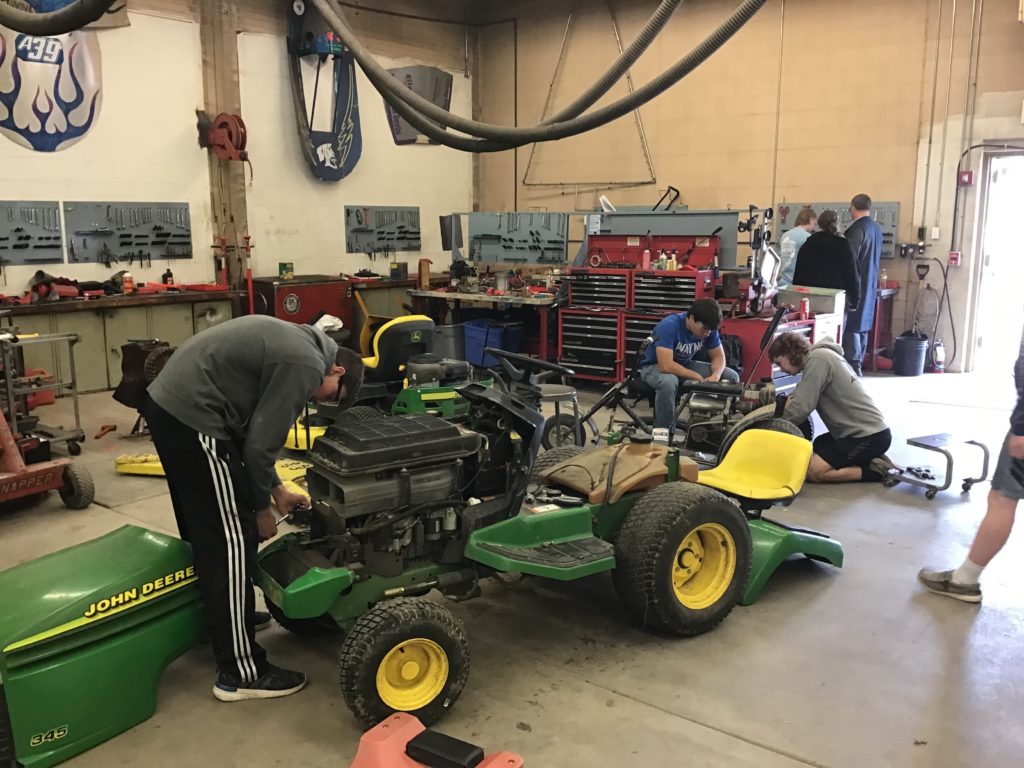 Misty Beair, Mandi Fernau and Gwen Frideres – Healthy Kids by Stopping Spread of Germs
Sarah Oltjeenbruns – An Addition of Nonfiction
2019-2020 IDEA Grant Award Recipients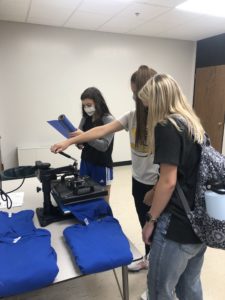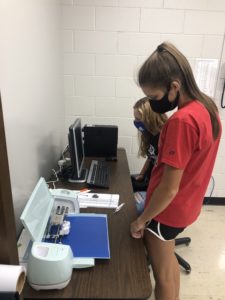 Mrs. Koch and Mrs. Surber: FBLA and FCCLA Wayne School Store
"With the equipment and technology that was purchased through the IDEA Project, we can now offer the school store through our FBLA and FCCLA clubs instead of going through an outside company. The students now print and create the school store apparel right at the school and we can offer the school store year round instead of two or three times throughout the year." ~ Mrs. Koch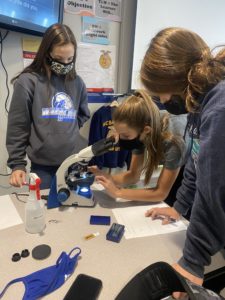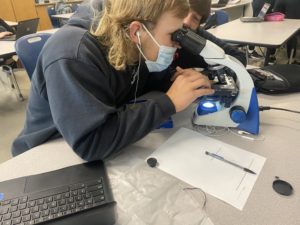 Ms. Rasmussen: Agricultural Sciences Microscope and Slides
"The need for this project includes increasing students' use of technology and enhancing their recognition of parasites and other materials for Veterinary Science, Large Animal Management, Agronomy and Plant Science. These microscopes and slides will greatly benefit the students as they are better able to identify these items with hands-on experience." ~ Ms. Rasmussen
2017-2018 IDEA Grant Award Recipients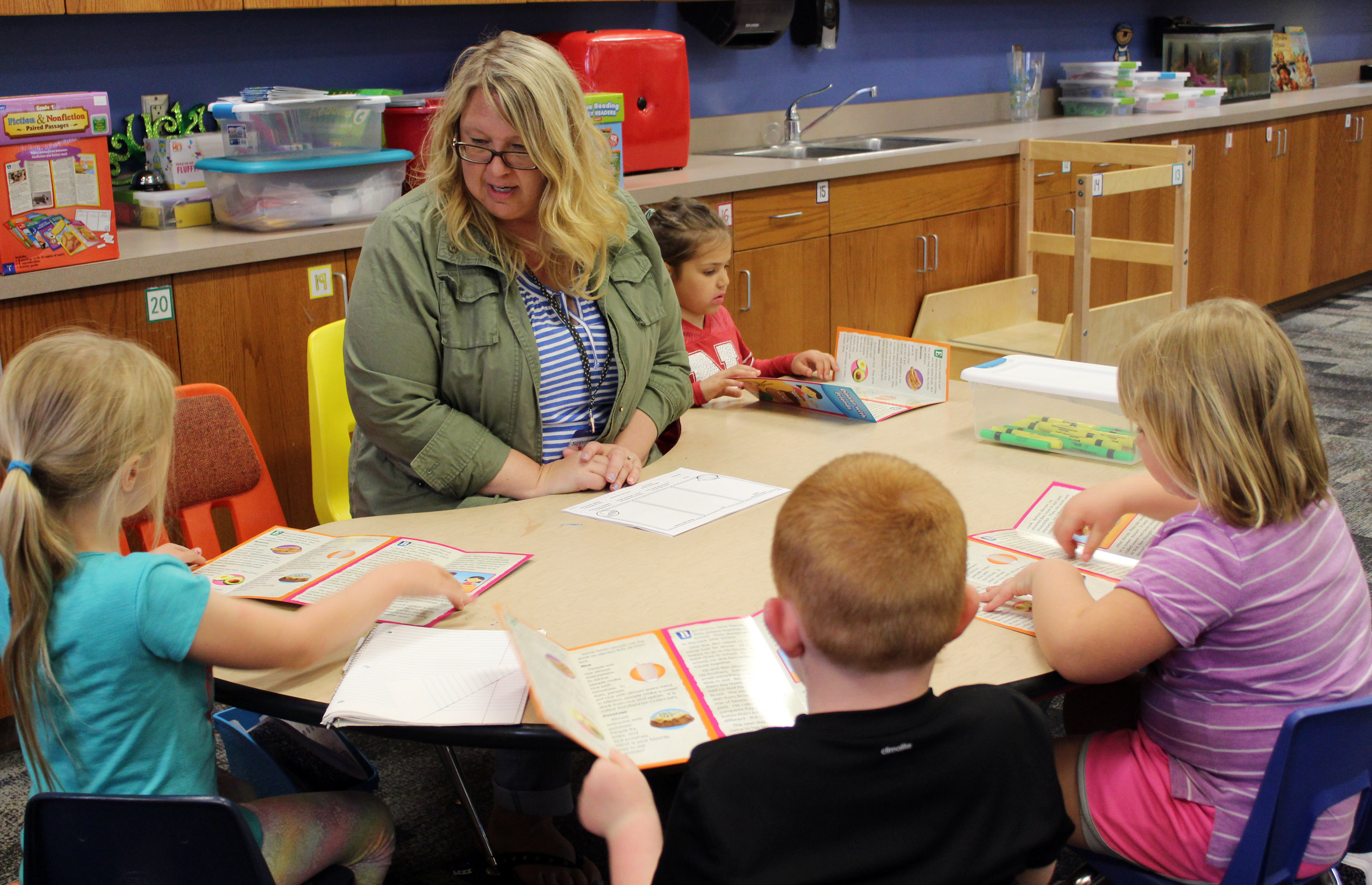 Mrs. Meyer and the Kindergarten Team:  Daily 5 Reading Supplies
"The Daily 5 supplies provided by the IDEA grant helped engage all students at their different learning levels. It really gave the students a variety of opportunities to learn the skills they need in an exciting new way. Thank you for selecting our classroom to benefit from the Wayne Community Schools Foundation IDEA grant." ~ Mrs. Meyer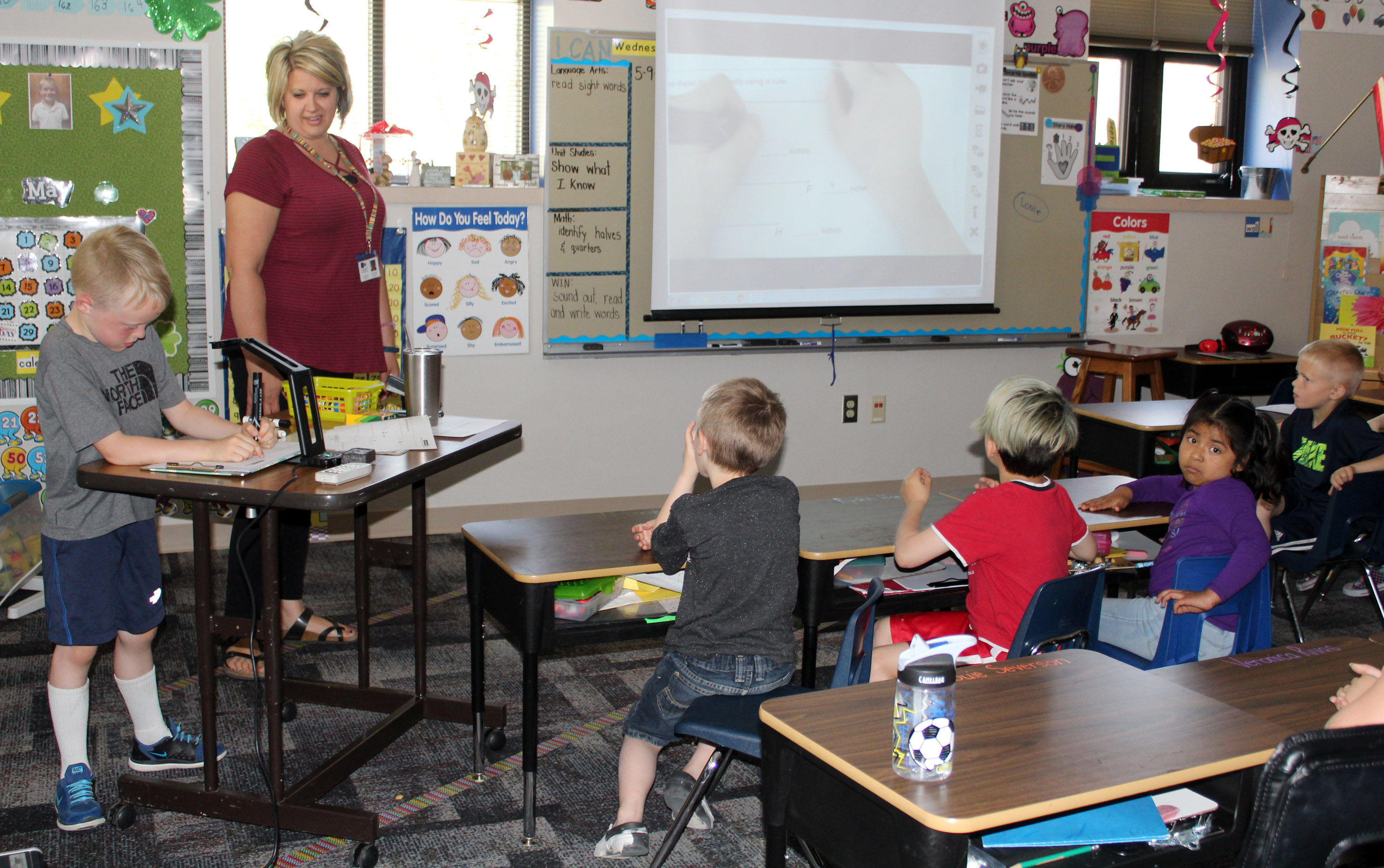 Mrs. Rockhill: Document Camera
"The ELMO document camera has made a world of a difference when it comes to modeling activities and showing examples to my students. It has encouraged class participation and shown an increase in attentiveness because the students can see what is going on. Thank you again for the opportunity to provide this experience for my classroom kids!" ~ Mrs. Rockhill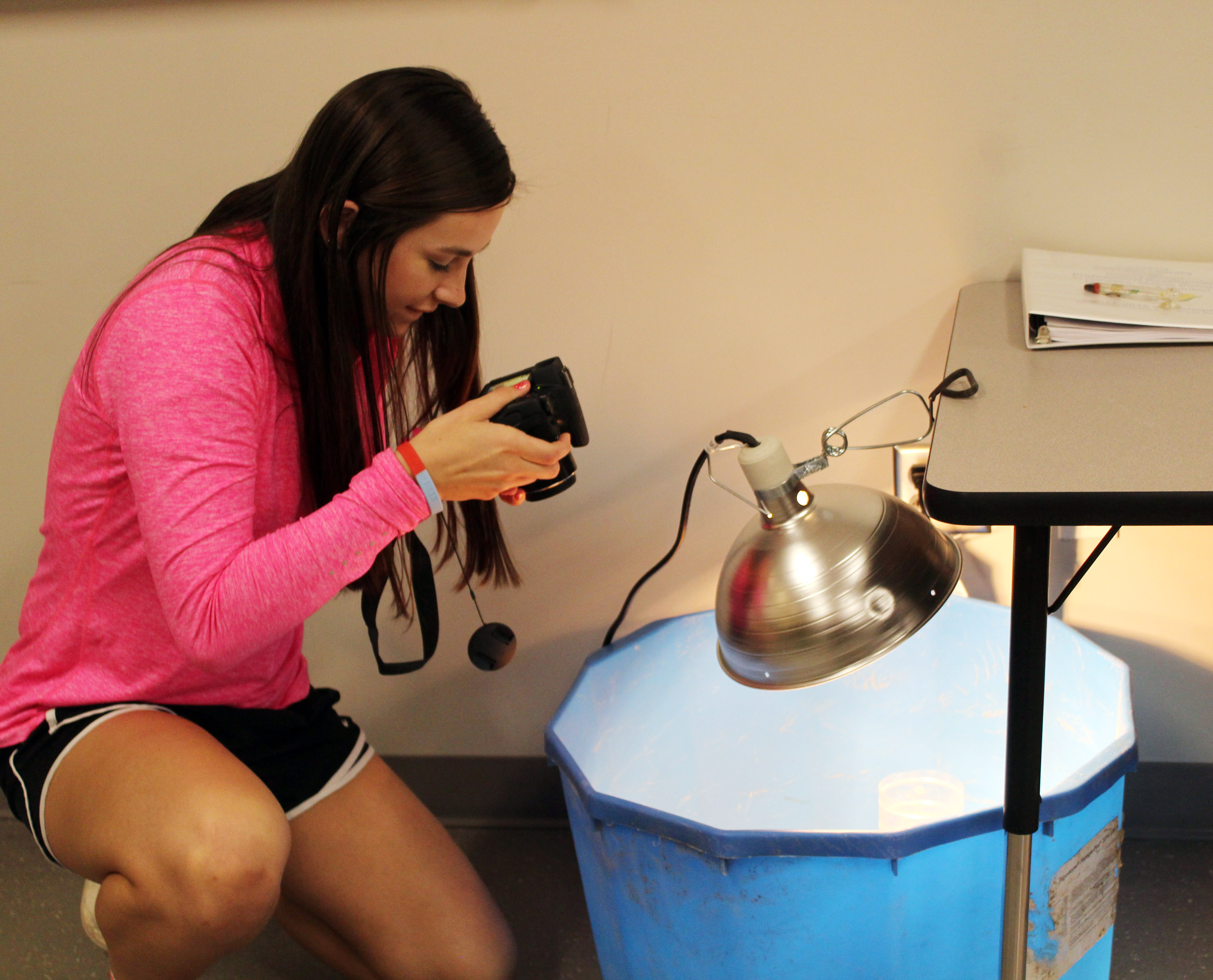 Miss Rasmussen: Digital Camera
"The camera has helped to showcase the new agriculture program through photos. Whether we are putting together flowers in class, out on an FFA field trip, welding, or competing for FFA, having the camera has been very beneficial to show the activities of the Ag program. Additionally, students have been able to gain experience in utilizing the camera to take photos. Almost all of them are proficient at taking photos with their phones, but having a separate camera has given them the opportunity to learn new skills in technology."  ~ Miss Rasmussen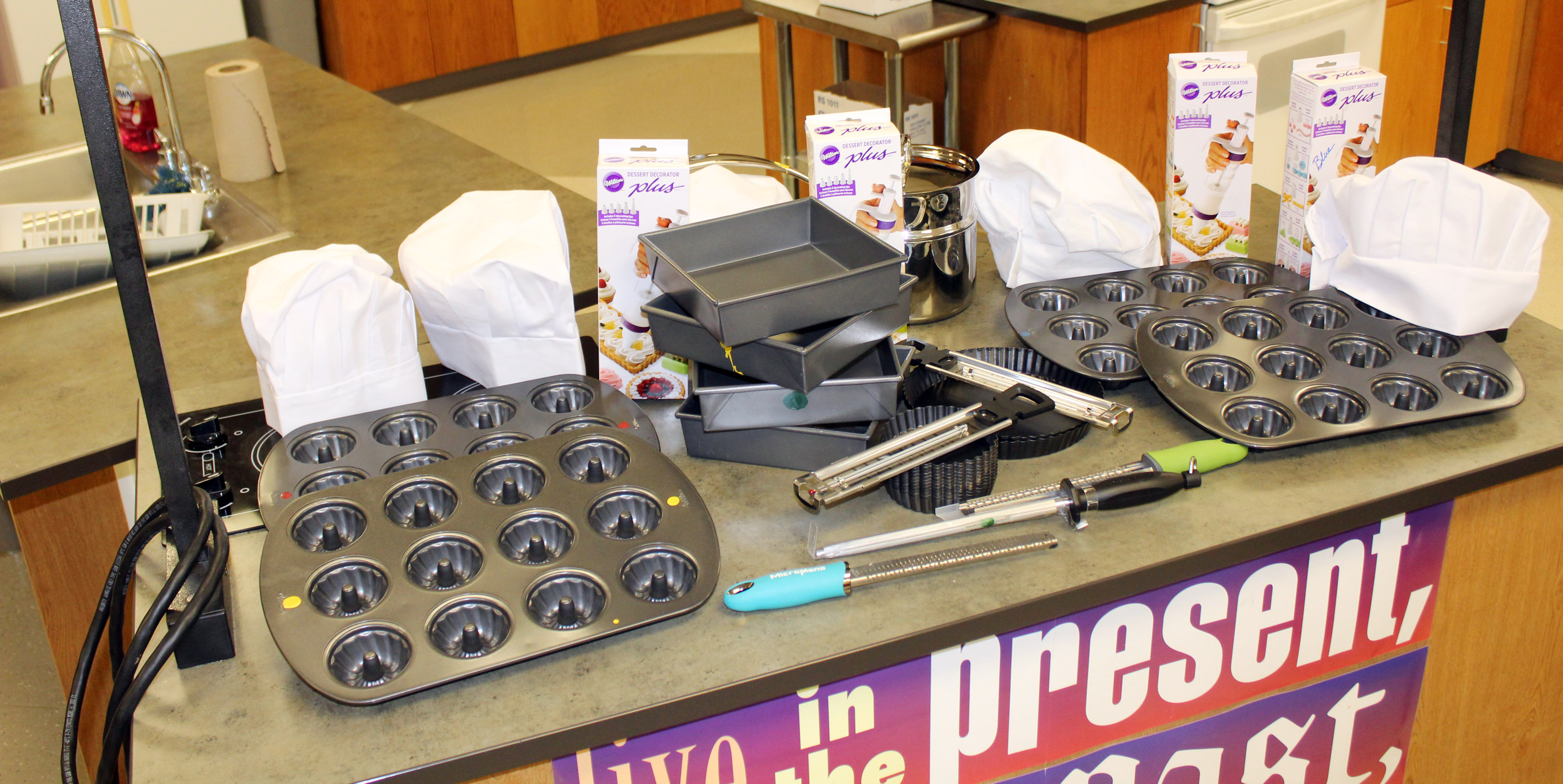 Mrs. Schardt: Culinary Tools
"One of the purchases with the IDEA grant, was white chef hats for our Culinary Class.  I embroidered each student's name on their hat. The students said that wearing the white chef hat made them feel like a professional.  Nineteen items of kitchen equipment were purchased. One lab did not yet have a Cuisinart double boiler so they were happy to have that piece of equipment for cooking of delicate foods. Other equipment purchased were tart pie and quiche pans for our British Tea lab, mini cake muffin cavity pans for mini bundt cupcake baking, candy thermometers for the candy labs, square cake pans, citrus stainless steel zesters and Wilton Baking and Cake decorating essentials. Now each lab has a full set of equipment for any basic or more advanced baking and cooking labs. The high quality commercial equipment definitely helps with success in food preparation.  The students also have the opportunity to work with equipment that is the same quality that they see in their book or when we view YouTube food preparation videos. A total of 114 students had the opportunity to use the equipment. I so appreciate the Foundation for providing the IDEA Grant funds and Lindsay McLaughlin for being a competent and cooperative person to work with."  ~ Mrs. Schardt
---
2016-2017 IDEA Grant Award Recipients
Mrs. Lilienkamp:  Imagine Learning English Technology  (Kindles)
"Having technology for students to use has become very important, especially in the world of ESL for students who have an Imagine Learning account.  This is a program that was created especially for English learners, preschool through sixth grade.  It has interactive activities, videos and games that are research-based to aid language and literacy development.  Student accounts are funded by a Title III grant, and Wayne Elementary is very fortunate to have access to this program.  The purchase of these Kindles with the IDEA grant has made it possible for students to have the technology they need to be able to use Imagine Learning in their classrooms at a time it fits into their busy day.  I hope that eventually we will be able to add more devices that can be dedicated for this use.  This grant has made a difference in the accessibility of Imagine Learning for one classroom, at least!"  ~  Mrs. Lilienkamp
4th Grade Team:  Igniting our Nonfiction Addiction  (Nonfiction books)
"Through the IDEA Grant, we were able to provide our students with opportunities to experience and interact with nonfiction text while reading the book Magic Tree House: Rain Forests.  The exciting and unusual information in this book kept our students engaged in their learning as they not only read about the rainforests in our world, but they also used their new knowledge to construct life-sized plants and animals of the rainforest!"  ~  Mrs. Hix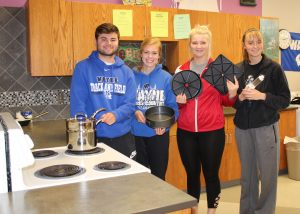 Mrs. Schardt:  Bon Appetit! Hospitality and Tourism Career Readiness  (Culinary utensils and equipment)
"The IDEA grant provided funding for kitchen equipment and utensils needed for our new Culinary Skills I class.  When setting up the course curriculum, I matched it to the State Department of Education standards and objectives listed for this course.  To achieve those objectives, certain labs needed to be offered.  The equipment that was purchased included double boilers, springform pans, cake decorating supplies, Ramekins with butane torches and scone pans.  The equipment was not only used by the fifteen students in the Culinary Skills I class, but all 7th graders and the 44 students in Foods and Sports and Nutrition classes. The students were able to do more challenging and involved baking labs with the equipment the Foundation provided."   ~  Mrs. Schardt
2017-2018 grant recipients are:
Mrs. Schardt's:  Batterie de Cuisine – Kitchen utensils and supplies
Miss Rasmussen:  Camera for Ag Ed & FFA
Mrs. Meyer and Kindergarten Teachers:  Leveled Library for Kindergarten Differentiated Reading
Mrs. Rockhill:  Up Close in Kindergarten – Document camera
---
2015-2016 IDEA Grant Award Recipients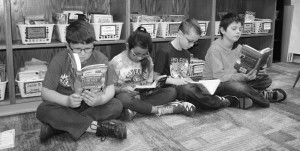 Mrs. Wendte: Igniting a Passion for Reading ~ Enhancing the classroom library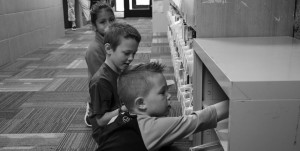 1st Grade Team: Leveled Reading Books/Library in Language Arts for Differentiated Learning ~ Enhancing the grade level library and providing various levels of books for students to choose.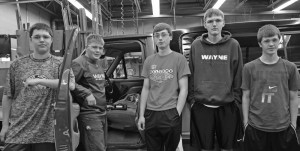 Mr. Cantrell: What is my car trying to tell me? ~ Technology used for vehicle diagnostic testing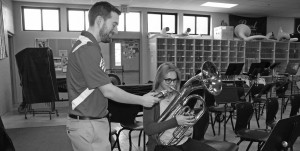 Mr. Wieland: Zoom into Music ~ Portable digital recorders
---
2014-2015 IDEA Grant Award Recipients
(Below: Students using the Surface 2 devices that were purchased with The IDEA Grant funding)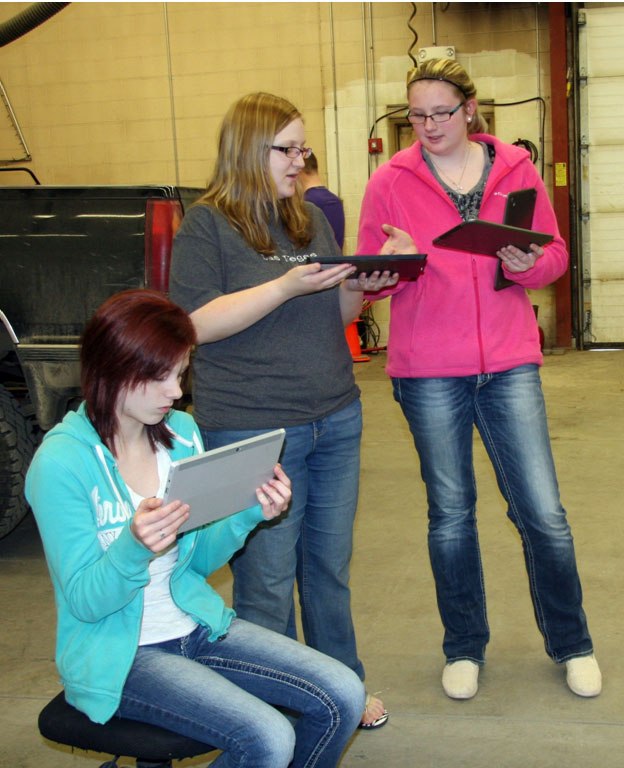 Diana Davis and Annette Rasmussen: Surface 2 "Everything we need… right on the Surface"
The Surface 2 is similar to an iPad except it comes loaded with the Microsoft package as well as apps available for purchase through the Microsoft store. Mrs. Davis stated, "It's great to have the opportunity to show students another example of mobile technology. 10-12 graders have Chromebooks, but the surface is just different enough to give them an opportunity to use a Microsoft device rather than a google device. We've used the video feature in class. Most of them have iPhones or Smart phones so they've seen and used apps, but taking video and then downloading it was a new dimension. We downloaded the video into google and then inserted the video into a google website they had created for me earlier this semester." Mrs. Davis, who is also the Junior High Track Coach is excited about using the device during competitions. She can video anything the athletes are doing and provide instant feedback to the athletes.
"I believe having the surface, which a different technology device than what is currently available in our district, gives the students an opportunity to become aware of and familiar with a technology tool he/she may be utilizing in the workplace.  This grant has provided an opportunity for Wayne students to become more successful in college and the work force." ~ Mrs. Rasmussen
"Thank you to the foundation for the opportunity to receive a grant to enhance the classroom along with the athletics at Wayne Community Schools!" ~ Mrs. Davis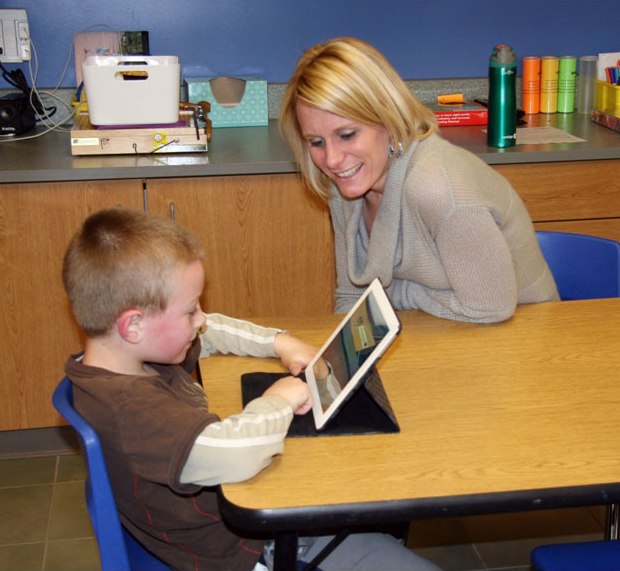 (Above: Mrs. Maas using the iPad for individualized instruction with a 1st grade student)
Courtney Mass: "iPad Integration in Language Arts and Math for Differentiated Instruction"
"It has been wonderful to have a 3rd iPad in my classroom. I had two that were used for Listen to Reading. The 3rd iPad has allowed me to do individualized interventions for students who may need extra help, or challenge students who are above grade level by using challenging activities." ~ Mrs. Maas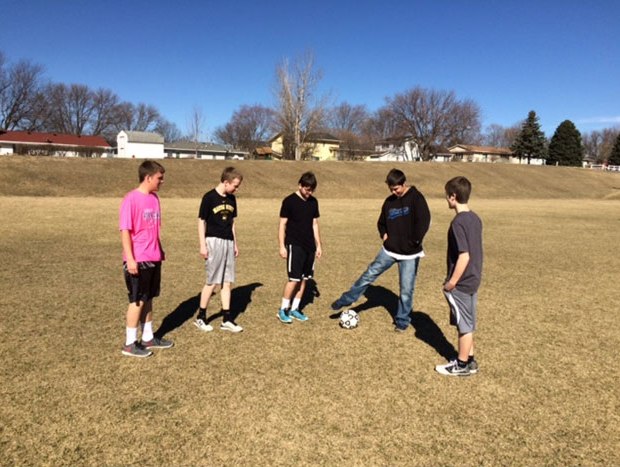 (Above: Mr. Beair's PE Class utilizing SPARK Curriculum instruction.)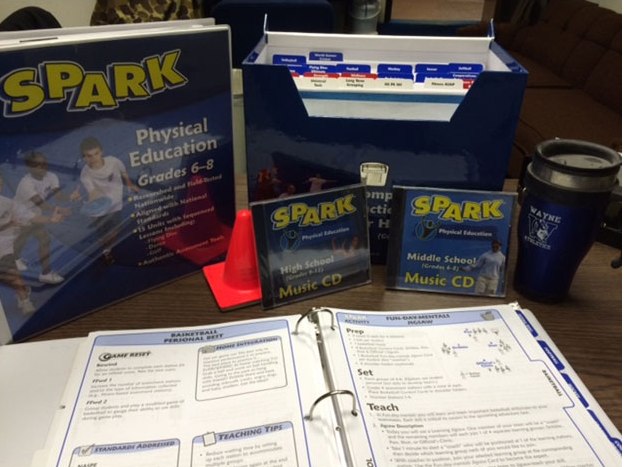 (Above: SPARK PE Curriculum)
"With the money from the foundation grant we purchased the SPARK High School PE Curriculum. This allows us to be completely aligned with the elementary and the junior high. I am very pleased with the materials and I see an improvement with the willingness to participate in physical education activities.
Thanks for everything!" ~Coach Beair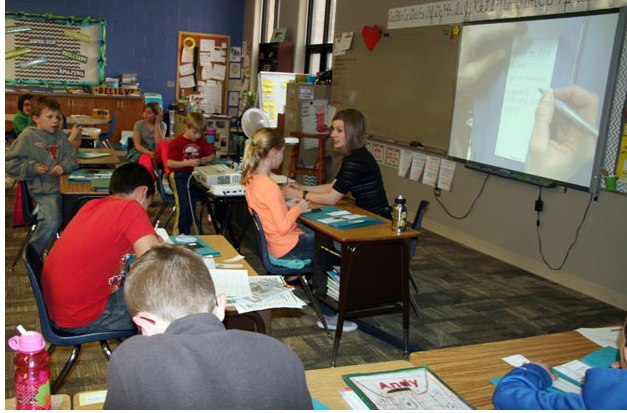 (Above: Mrs. Sims using the document camera that was purchased using The IDEA Grant funding.)
"I love that I can instruct my class without having my back to them.  It allows me to check in with them often and see the "I Got It" or "Help" looks on their faces as we go through the lesson.  It has been an excellent addition to my classroom and makes it easier to "zoom" in and concentrate on specific skills and concepts." ~ Mrs. Sims
Comments from Mrs. Sims' students:
"The document camera helped us with math – to learn the age of pennies." ~ Braxton
"It's really good so that we can see what out homework looks like and we can check Mrs. Sims' handwriting."
~ Genevieve
"Any object can be zoomed for students who need it bigger." ~ Mason
"It helps so I can see what Mrs. Sims is teaching." ~ Israel
"It's cool that it can zoom in, and it helps us see the writing better so we know what we're doing." ~ Caiden
"We used it for Science to make really awesome origami frogs." ~ Katelyn
---
2013-2014 IDEA Grant Award Recipients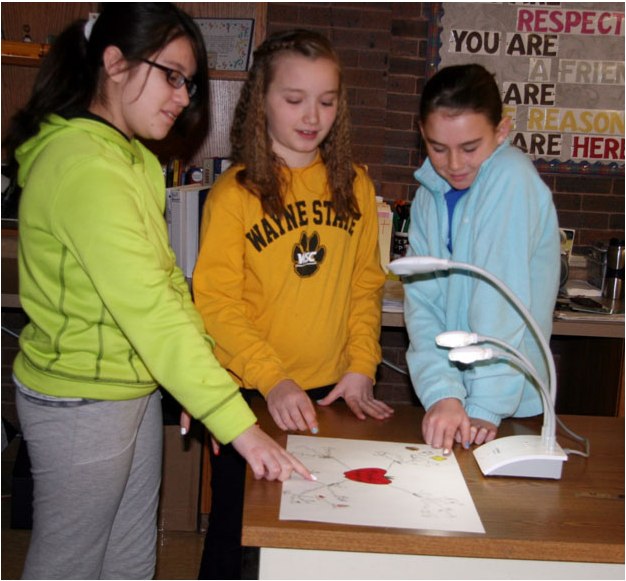 Mrs. Niemann: WOW! Look What I See Using a Document Camera! ~ Document camera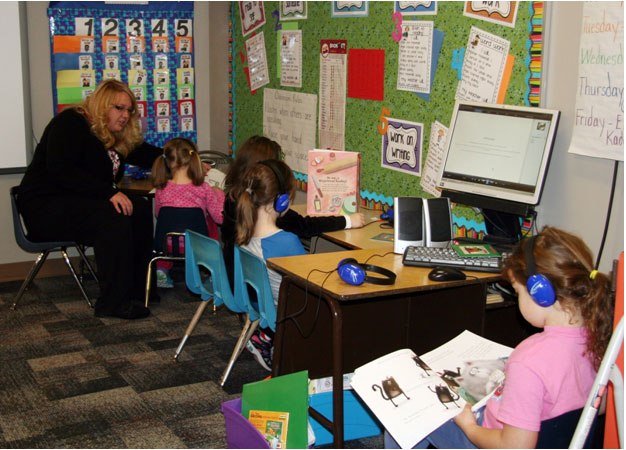 Kindergarten Team: Reaching Literacy Goals with The Daily 5 ~ Differentiated reading instruction approaches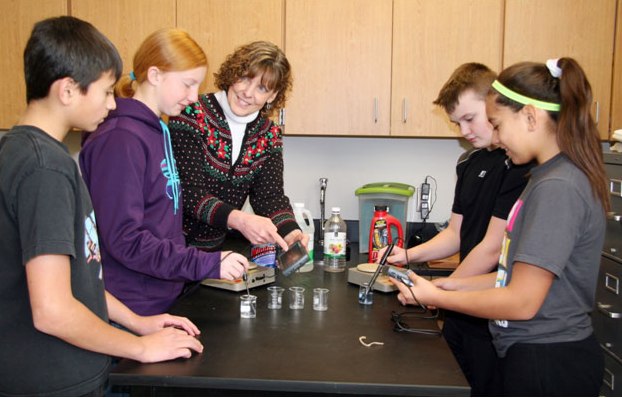 Junior High Science Teachers: SEEDS II: Students EngagED in Science ~ LabQuest 2 technology devices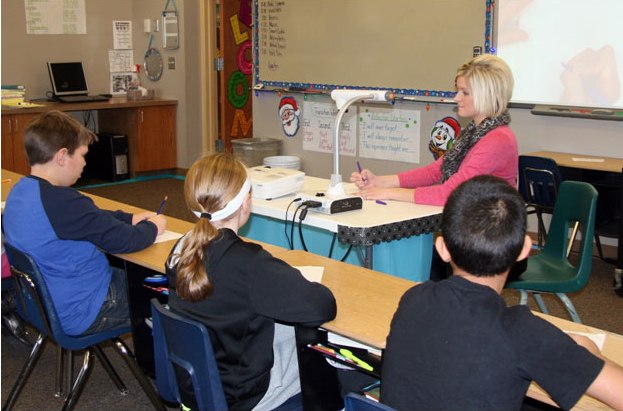 Mrs. Hix: Tickle Our Brains with an ELMO! ~ Document camera