Anna Knezevic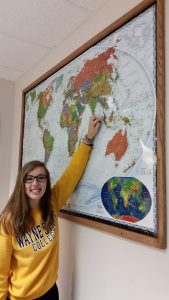 Graduated from Wayne High School in 2013
Attended Wayne State College
Majored in Marketing and International Business
Anna's favorite class at Wayne High School was British Literature
Anna's favorite teacher at Wayne High School was Mr. Spieker
Anna's fondest memory of being a Blue Devil was going with Close Up to Washington D.C. and New York City
Anna was selected as a recipient for the Fulbright Student Award.  Anna will be travelling to Malaysia, where she will be placed in either an elementary or secondary school to provide supplemental English language instruction as well as a being a native English speaker in the classroom.  Anna stated the following regarding her award and the selection process:
My goal is for my Malaysian students to gain confidence in their English language skills, even when interacting with a native speaker.  As a cultural ambassador for the United States, I will share about the culture and values from upbringing, the American heartland.  I will also learn from Malaysians, by immersing myself within the community in which I will be placed.  I am excited at the opportunity to try a new experience, learn at least on one of the languages (Malay or Mandarin) and the co-existence of various religions groups: Hindu, Islam, Buddhism and others.  As well, I look forward to exploring the country and region when school is not in session.
Selection Process:
After attending the informational session, I learned that the Fulbright program is highly competitive.  I also recognized that not having a teaching background, was not required for the ETA program.  At the session, we were provided with online resources that help with the application process.  I viewed several videos and did some research on my country of interest and really got interested.  We were also encouraged to contact recent ETA alumni to learn more about the application process.  It takes time and effort.  In February, four months after submitting the application, I learned that I was a semi-finalist and my application had been forwarded to the Malaysia Fulbright Commission and the Bureau of Cultural Affairs of the State Department to undergo a final review. It was a long two months of waiting to know if I had selected to be one of the 100 ETA's to Malaysia. I worked with two mentors: Drs. Jean Karlen and Leah Keino who reviewed my statements and offered critical feedback.  I also shared ideas with another WSC applicant.  I encourage others to consider applying.  All the experiences we gain at WSC including group interactions in classes, service-learning, volunteering, and studying abroad, I believe all strengthened my application.