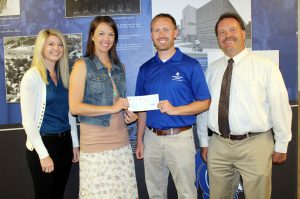 Grant provided by Farm Credit Services of America Working Here Fund for Agriculture Education
 NORFOLK, NEBRASKA – Wayne Community Schools Foundation received a $2,000 grant for drone technology and utilization.  The grant is provided through Farm Credit Services of America's (FCSAmerica) Working Here Fund.
Wayne Community Schools Foundation will purchase a drone and complete training classes with grant funds.  Instruction including the rules, regulations, and proper etiquette when using technology devices such as drones will be part of the training. The photos taken by the drone will be utilized in the classroom for students to compare different ecological areas of northeast Nebraska.  Students will learn about technology innovation and management,
"Students graduating high school and entering the work force or college now are required to have more experience and knowledge of technology than ever before," said Lindsay McLaughlin, executive director of the Wayne Community Schools Foundation.  "By having a drone in the classroom, students can gain more experience with technology and learn how it works, how it is best used, and expand the possibilities of using this technology with experiments that they may create."
"At FCSAmerica, many of us grew up in agriculture and continue to farm.   We know first-hand the value of agriculture education and are proud to partner with Wayne Community Schools Foundation to ensure future generations have the same opportunities for learning," said Zach Gansebom, vice president of retail operations at FCSAmerica's Norfolk office.
The drone, operated by teachers and students and following proper etiquette, will seek approval from landowners, when taking photos of the area.
Wayne Community Schools Foundation is one of 77 organizations to receive a Working Here Fund grant in the first quarter of 2017. FCSAmerica awarded $111,965 during the latest grant cycle ending March 31, 2016.