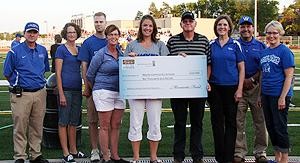 Wayne Community Schools was awarded a $10,000 grant from America's Farmers Grow Rural Education,
sponsored by the Monsanto Fund.
The district will use the money to purchase Chromebooks and a mobile cart for the computers.
Seventh- through ninth-grade students will use the Chromebooks to increase the number of science research projects conducted and showcased at the Wayne Junior High Science Fair in the spring. Teachers will encourage students to choose agriculture-based topics, with an overarching goal of using the new Chromebooks to increase agricultural literacy among students.
"The students of Wayne Community Schools have a history of excellence in science research," said Lee Brogie, science teacher at the school. "This project will greatly enhance our program by giving students the technology needed to boost awareness of the current challenges facing agriculture."
Representatives from the school, the school's foundation and the Monsanto Fund attended a check presentation to celebrate the grant during the homecoming football game on Sept. 4.
"Thank you to the farmers who believe in our students," Brogie said. "Because of this grant, our students will use their intellect and their passions to propose solutions that will positively impact the agriculture industry."
This year the school district also received an educational starter kit from Monsanto Company to help establish a pollinator garden, which will give students first-hand knowledge of the critical role habitat plays in providing bees and butterflies with food, shelter and places to lay eggs.